Give Your Old Stored Furniture New Life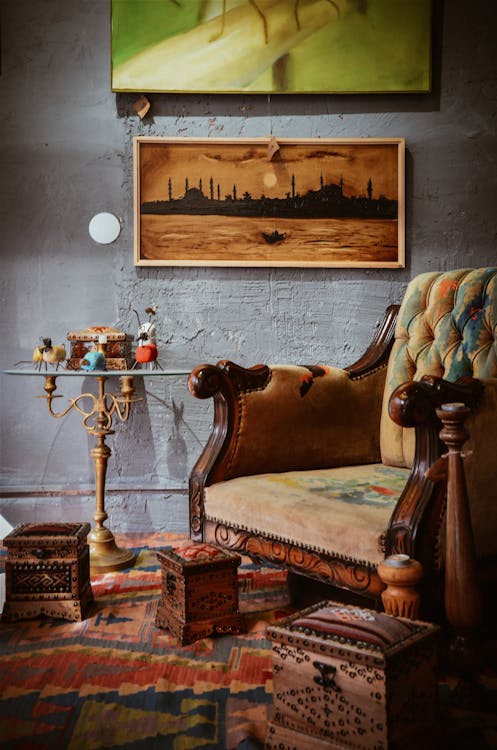 Give Your Old Stored Furniture New Life
Most often, we buy furniture with a certain purpose. For instance, years ago you needed a sofa sleeper for out-of-town visits from your family. Other times, you may have purchased chairs, tables, end tables, and couches to furnish your new home. Moving from one apartment or home to another, reveals what we can use and what may need to be stored or sold. When you have a favorite chair in storage, but you don't like the 1950s hot pink and black latex paint, you hesitate to put it in your current home. While that is understandable, why not do something about it, so you can get the enjoyment you deserve from it?
Refashion and renew your old stored furniture with simple ideas that are easy on the budget. Your self-storage unit from 5A Rent-A-Space in Foster City, is the best place to house infrequently used and seasonal items. It's also the perfect solution for housing that thrift store find until you have a moment to work some makeover magic. Not only do we have the right sized unit for your needs, but we also sell moving boxes and packing supplies to keep things protected, neat and tidy.
8 Tips to Bring Back the Pizazz in Your Old, Stored Furniture
You don't need to throw out favorite pieces of furniture just because it looks old. If the joints are sound, why not revamp and breathe new life into them? Here are eight ways to get you started:
Strip Painted Pieces: What do you do with a wooden table that was painted 1970s gold? What about that old bookcase you took out of your spare bedroom? Try stripping off all the paint to uncover the wood grains underneath. Once you have completed this, you can choose to repaint or stain based on your tastes.

Stain Wooden Tables, Chairs, or Dressers: Sometimes the beauty of a piece of furniture lies underneath layers of paint. Once removed, you may be reluctant to repaint. Instead, let the lovely grains show through by staining the piece. The choice of colors is expansive so it will not be too difficult to find the right product for your furniture redo.

Try Basic Reupholstering of Furniture or Re-covering Cushions: Revamp those old, derelict-looking dining room chairs by re-covering the existing cushions with fun, classy, or whimsical material and colors. You can take an old ottoman and reupholster it to match your newly painted living room. You can easily find instructions on basic upholstery techniques on the Internet.

Use Whitewashing, Liming, or Pickling: For a faded look, try whitewashing your furniture. The technique lightens wood yet still allows the grain to show through. It can give your piece an antique look without the years of waiting. Different techniques include using a liming solution and pickling. Internet and YouTube instructions can be your guides.

Test Out Milk Paint: When you want a truly unique and natural type of paint, look for milk paint. You buy it in powder form and mix it up yourself. You can even customize the colors. Imagine the possibilities when you update your old desk with customized milk paint.

Stick with Tried and True Latex or Oil Paint: If you are not in love with the look of wood but love a certain piece of furniture, nothing beats the tried and tested latex and oil paint. You can quickly uplift a desk or table with bright, vibrant colors that easily become a focal point of the room.

Refresh Outdoor Pieces with Spray Paint: Do you have an old outdoor wicker patio set tucked in your storage unit that you would love to use again? You can! After hosing down the pieces with water and letting them dry, add a few coats of spray paint and newly re-covered cushions. Your morning coffee will taste even better sitting on your deck in your revamped settee! Even rusted and weathered wrought iron tables and chairs can shine and come back to life with a couple of coats of Rustoleum.

Start with a Decluttered Home: This may seem like an odd way to breathe life into old, stored furniture, but it helps to see the new purpose it can have when you remove those items that clutter your home. Take some time to box up rarely used, but treasured, items into moving boxes, label them and put them away into a self-storage unit. Later, when you feel like redecorating, you will have handy access to your beloved belongings.
Redecorating is a Snap with 5A Rent-A-Space
Reinvigorate and reuse old furniture now, and when you are ready for a change, tuck it away in your Foster City storage unit from 5A Rent-A-Space. You can easily access all your belongings through convenient hours, so redecorating or storing new finds is a breeze. We will even move your things with our free van when you rent a unit from us. If you need moving boxes and other packing supplies, we have those too.
Reserve your self-storage unit online now. Call 5A Rent-A-Space at 650-338-0016 or toll-free at 1-800-5ASPACE (1-800-527-7223) to learn more. Not sure how much space you will need? Use our online Space Calculator to estimate the best unit size for you.